Enrollment
Main Content
Advising
Preparing for Advising & Your Academic Resources
Your enrollment appointment is determined by the number of completed hours you have. This appointment is the earliest time you can register for classes.
Before your scheduled appointment, it is recommended that you meet with your advisor to ensure you are prepared to register. If you are an undergraduate student, you must be advised for your first four long semesters before registration. If you were admitted during this period, a registration hold will be placed on your record until you have been advised. This hold can be removed by your advisor or the administrative assistant in your major department after you have received advising.
To view your enrollment appointment, log in to MyTCU, click on the Manage Classes tile, and scroll down to Enrollment Dates. Please note that enrollment appointments are both time and date-specific.
Contact your advisor to schedule an advising meeting (to view your advisor and their contact information go to the Academic Progress tile under your Student Homepage and click Advisors). If an advisor is not listed, contact your major department directly for assistance in getting an advisor assigned to you.
Review your My Academic Requirements (major academic requirements and degree core requirements) under the Academic Progress tile.
Review your My Academic Requirements Report and Degree Progress Core Report (located under the Academic Progress tile on your Student Homepage).
Take these reports with you to your advising session.
Meet with your advisor to discuss your upcoming enrollment choices and your path to graduation.
Ask your advisor to remove your Advising hold, if applicable.
Suggest your advisor use Advisor Notes to leave notes about your session so you can see them on your account (under the Academic Progress tile).
Pre-load your enrollment shopping cart or Purple Schedule Builder in anticipation of your specific enrollment appointment.
After student enrollment appointments are created, students can use the following pathway to navigate to and view their specific enrollment appointment. When enrollment appointments are set, you may view them on your MyTCU account.
Important Dates
| Date | Description |
| --- | --- |
| November 8 | First day of scheduled GRADUATE enrollment appointments for spring 2024 |
| November 9 & 10 | First day of UNDERGRADUATE Honors, Athletes & Accommodations enrollment appointments for spring 2024 |
| November 13 | First day of scheduled UNDERGRADUATE enrollment appointments for spring 2024 |
Plan/Build Your Schedule
The Purple Schedule Builder is a useful tool that helps you plan an class schedule that meets your needs.
Register for Classes
Are you ready to register for classes? We'll walk you through the process step-by-step.
Core Curriculum
The TCU Core Curriculum is a set of classes designed to:
embody the liberal arts ethos of Texas Christian University.
facilitate a focus on educational competencies, learning outcomes, and assessment.
show sensitivity to the special needs of students in different colleges and degree programs.
provide intellectual challenges and opportunities for students and faculty.
Students follow the TCU Core Curriculum if they were admitted as freshman beginning summer 2005 and beyond, or as a transfer student beginning summer 2007 and beyond.
Use this code key to identify courses that have been approved to fulfill the requirements of the TCU Core Curriculum (TCU CC).
Human Experience and Endeavors
Humanities (HUM)
Social Science (SSC)
Natural Science (NSC)
Fine Arts (FAR)
Heritage, Mission, Vision and Values
Religious Traditions (RT)
Historical Traditions (HT)
Literary Traditions (LT)
Cultural Awareness (CA)
Global Awareness (GA)
Citizenship & Social Values (CSV)
Essential Competencies
Mathematical Reasoning (MTH)
Oral Communication (OCO)
Written Communication (WCO)
Policies & Guidelines
TCU's academic experience is governed by policies for students and faculty.
Grading
Understand "I" grades, "Q" grades and P/NC.
Test & Transfer Credit
Students transferring to TCU must present a record of all transfer work for evaluation to the Office of Admission for approval by the appropriate academic dean prior to their enrollment in the University. Transfer coursework not presented prior to enrollment may not be counted toward a degree. TCU only reviews coursework from regionally accredited institutions. After enrolling at TCU:
All students must receive prior written approval of the appropriate academic dean if they wish to take courses at another regionally accredited institution and have those courses count toward a degree at TCU. Coursework taken without prior approval may not be applied to a degree.
To request approval to take courses at another institution online, a student should log in to my.tcu.edu and click on Student Center.
Once a student is enrolled at TCU, no more than 12 total semester hours, except those earned in an approved study abroad program, may be transferred from other schools.
Transcripts for approved transfer credit should be sent to:
Office of the Registrar
TCU Box 297004
Fort Worth, TX 76129
If a student wishes to deliver his/her transcript in person, the transcript must be in a sealed and signed envelop from the institution.
Transcripts may be sent electronically from another institution by sending them to transfer.work@tcu.edu.
Here are some tools to assist you in locating the equivalent transfer course.
After students enroll in TCU, all courses taken outside of TCU must have prior approval by submitting a transfer credit request.
After you log into my.tcu.edu, click on the Academic Records tile, scroll down to Transfer Credit and click on the drop-down arrow, choose Request Transfer Credit from the options. Select the term you wish to take the course(s), enter how many total hours you anticipate taking, answer if this will interrupt taking your last 30 hours at TCU, and if you will be concurrently enrolled at TCU while taking this class.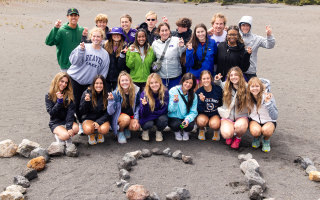 Expand Your Horizons
Interested in seeing the world while you take classes?
Travel with TCU Study Abroad in over 50 countries. You can also participate in service-learning trips and internships abroad.